Rob's Sexual Foot Fetish Revealed on Second Date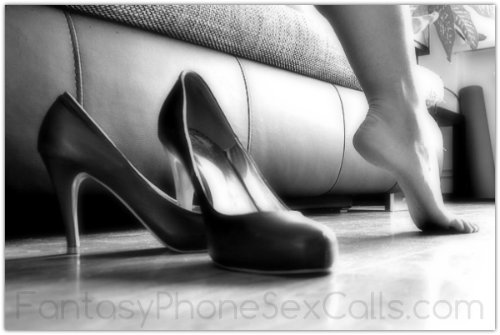 Do you have a strange, bizarre, weird or even twisted sexual fetish you wouldn't admit to anyone? Perhaps a foot fetish?  You can act out your unusual fetishes and kinky desires in a completely unrestricted, private conversation with one of our deliciously talented fantasy phone sex operators. If you have a shoe or foot fetish and would like to either experiment or indulge in your own foot fetish phone sex call, read the erotic story below as it will get your cock standing at attention in no time!
---
Rob's Sexual Foot Fetish Revealed on Second Date
"You're really okay with going shoe shopping with me, Rob?"
He knew Monica thought he was cute and sweet, someone who's dating profile had actually matched up with the reality – for once. But the second date wasn't usually spent browsing for sandals or boots.
"Yep, I'm really good with it." Rob was more than good with it. He could feel his palms getting sweaty and his pants tightening as his cock swelled at the thought of seeing her bare feet and everyone else's in the store.
She shrugged as they walked down the sidewalk. He tried to come across as nonchalant – no need to freak her out. Their dinner date the weekend before had been fun. He'd made sure to keep his eyes on hers instead of her feet, even when she dangled her heel from her big toe.
Looking down, he caught a glimpse of her toes peeking out from her sandals. Red nail polish and long toes. His absolute favorite. He'd give anything to suck on them and run his tongue between them. Even he knew it was too soon to pull out the foot fetish thing. Maybe if they walked enough, she'd let him massage her feet at the end of the day.
Rob shivered with pleasure at the thought of touching her hot, sweaty feet. Her soles would be crinkly but soft. Her heel firm, wiggly toes that he could play with.
He reached down to adjust, hoping she didn't see his growing hard-on. On impulse he grabbed her hand and held it as they approached the shoe store. God, he loved sandal and flip flop season.
Monica meandered down the different aisles, browsing, he assumed, for the perfect pair. She found two pairs and sat down on the bench to try them on. Doing everything in his power not to stare at her feet and give away his secret fetish, Rob looked everywhere else. Naked feet were everywhere. Old, gnarly toes that he knew would still be soft to the touch. Painted nails, unpainted, dirty, clean. He loved them all.
Glancing down at his own feet, he saw Monica wiggle her toes against the plush carpet. He couldn't hold back the image of her feet cradling his cock, stroking his shaft. The thought of her toes rubbing the tip sent shock waves of pleasure through his body. His body grew warm in the store. Those soft soles against his hard meat, pumping up and down until his cream covered toes. Toes he'd lick…
"Rob?" Her voice penetrated the fantasy. "Hey! Earth to Rob!"
"Oh, yeah, sorry, must have zoned out." He hoped the swelling in his pants wasn't too obvious.
She chuckled. "I guess so! I asked what you thought of these."
Monica stuck out one foot. The leather thong between her toes lead up to jeweled pieces on the top of her foot. He wanted to put his tongue into the crease of her big toe and just lick and nibble.
Realizing she expected an answer, Rob forced himself to look into her eyes again. "Um, yeah, those are nice. They make you're feet look prettier than they already are."
She gave him a quizzical look. Fuck, he shouldn't have said anything!
"You think I have pretty feet?"
"Um, yeah, they're nice. All of you is pretty to me." He could feel the blush creep up his neck. He hoped he hadn't just blown it with her.
"Awwwwww!" Her voice went up a pitch. "That is the sweetest thing anyone has ever said to me!"
She leaned forward and kissed his cheek, causing his cock to spring back to life. He thought about grabbing her, pulling her close, and kissing her properly, until she was breathless. Before he could make a move, she was trying on the next pair.
Heels with a closed toe but a strap around the back of her ankle. As she modeled the shoes for him, he thought about her soft heel pressed against his balls, gently, not too rough. Her toes wiggling against his shaft while her heel massaged his balls. He could cum from that alone, he knew it.
"I'm torn. I'm only getting one pair today, and I can't decide." She smiled at him. "Which make my feet look the prettiest?"
He liked that she asked his opinion and that she blushed so sweetly. There was no contest in his mind which she should get.
"The sandals. Definitely those." He'd make them the center of his fantasy tonight while he was jacking off in the shower. The taste of leather, sweat and skin, the smooth polish, all of it made him rock hard again, painfully so.
Much later that day, after shoe shopping, ice cream, and people-watching, Rob finally convinced her to take a break on a park bench. Grabbing her feet, he swung her legs into his lap.
"Take a load off!" She giggled and leaned her head on his shoulder. "Can I give you a foot massage?"
"Here? In the middle of the park?"
"Yeah, here. It's just your feet." He hoped he sounded casual. The thought of her feet in his hands was enough to make him cream his pants.
Another giggle. "Okay, go ahead."
He started with her arches, working the tired muscles with his thumbs. She moaned with pleasure. His cock pulsed with need. She closed her eyes and relaxed into the bench. His fingers worked in between her toes as he inhaled deeply, attempting to get a whiff of her skin. Salty, tangy – the scent was sweet to him. As his thumbs worked her soles, his fingers kneaded the tops of her feet. Silky, just as he thought they'd be. His hard-on was painful, pushing against his zipper. He tried not to think about her feet wrapped around his dick, his cum spewing all over her toes.
Settling her feet in his lap, he willed his cock to calm the hell down. He didn't need her deciding he was some sort of perverted, foot fetish freak. Monica stretched her toes against his groin and opened her eyes wide. He was sure she was going to slap him and storm away.
Brushing his crotch with her feet, a small smile appeared. "I think someone's having a good time."
Rob coughed. "Um, well." Another cough. "I'm in the presence of a beautiful woman. It happens, ya know? No big deal, though!"
"Hmmm, I think he likes these." She wiggled her toes against his cock, which twitched, attempting to get closer. "Yep, he does."
"I, um…" He cleared his throat. "I understand if you're a little freaked out."
"A little freaked out?" She sounded amused. "Nope. I'm ready to go back to my place, though. Care to join me?"
He looked at Monica, confusion written all over his face. "Sure?"
"Good." She stood up, grabbing his hand to bring him with her. "I think someone needs to clean these puppies for me." She jiggled her foot back and forth and winked.
She laughed when she saw his face light up. "With your tongue."
Rob growled under his breath, adjusted his cock one last time, and grabbed her hand. He was sure he could find a few other things to do before the night was over…
* Erotic Story by S.T. Connections, Inc.
---
Do you have foot fetish and no way to release your urges? What about any other taboo fetish? Our phone sex operators are open, erotic, intelligent, and sexy – and waiting to help you have a good time no matter what your fetish may be. Take a look at the girls' pages to see what each is into. You'll be surprised at what kind of good time you'll have during your call and how kinky and taboo your fantasies can get.
Select one of our amazing phone sex operators, get your credit card ready, and call now. Don't let that dirty little secret about your foot fetish go to waste when we're here to make sure you get the relief you need!